What is the Kyoto Okoshiyasu Model?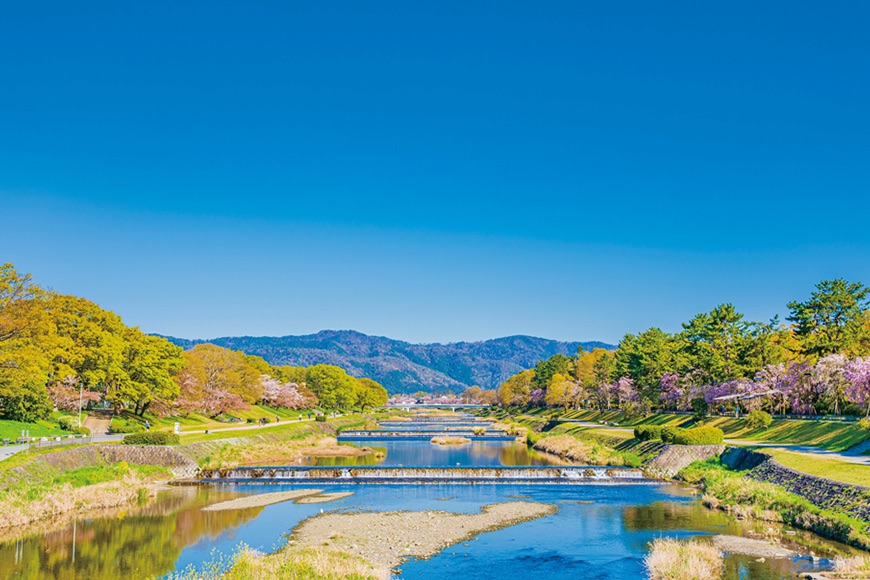 We support our students with a full range of programs prior to enrollment and after graduation.
Under the "Kyoto Okoshiyasu Model," each of schools, companies, and public institutions, work in cooperation to create an attractive environment for international students during their stay in Kyoto so that they can become familiar with the unique culture and arts of Kyoto and put themselves into their study without having problems.
The word "Okoshiyasu" is a Kyoto dialect word that means the feeling of "Thank you for coming." It expresses our heartfelt welcome to, and our full support for, those who chose Kyoto as their study destination out of many other candidates.
Program Contents
Below is the schedule for 2022, which is provided as an example.
* Please note that the contents are subject to change.
Before enrollment / in your home country
January

Screening

March

Application
Online study abroad fair

At the study abroad fairs to be held overseas, the appeal of studying in Kyoto and the information about each school will be presented. There will be online Q&A sessions, so please actively participate in them.

Online open campus and seminars/webinars

A wide variety of online programs, including campus tours, hands-on programs, and interactive Q&A sessions will be conducted. We will also hold seminars and webinars where you can speak frankly with those who have experienced study abroad, such as interviews with international students studying in Kyoto and graduates working in Kyoto, of each school. Please check out the schools you are interested in.

Distance learning system before visiting Japan

In cooperation with Japanese language schools in Japan and educational institutions in other countries, this course is provided through a hybrid approach using online and face-to-face so that students can effectively learn Japanese to be able to acquire N2 level of the Japanese Language Proficiency Test (JLPT). You can learn Japanese in an easy-to-understand manner. In addition, there are specialized subjects in the fields you will study after your arrival in Kyoto as well as subjects unique to Kyoto, which will be highly likely to increase your expectations for your study abroad.
Click here for details
Arrival in Kyoto / Enrollment in Japanese language school
July

Enrollment in Japanese language school in Kyoto

August – February of the following year:


Taking the official test
(to pass N2 level by February)
Students will arrive in Japan in July and enter into Japanese language school in Kyoto Prefecture in alliance with us until next March to attend the nine month program to improve their Japanese language skills.
※There are also other courses which will start in months other than July. However, the duration of study at Japanese language school will differ depending on your enrollment timing at Japanese language school. Please contact us for details.
Japanese language schools in Kyoto Prefecture

Short-term Japanese language education program in Japan

By developing a high level of Japanese language skills through meticulous teaching, students can participate in the classes of specialized training colleges smoothly from the beginning and adjust to their life in Kyoto more quickly.

Specialized training colleges in Kyoto Prefecture

Pre-enrollment education program at specialized training colleges

In parallel with the studies at Japanese language school, students can attend the pre-enrollment education program at the specialized training colleges in Kyoto Prefecture where they are planning to enter. The program is designed to provide them with the necessary background knowledge so that they can start their professional studies with confidence.
During enrollment in specialized training college
AprilEnrollment in specialized training college in Kyoto
Various student life support

Staff including international student counselors will meet with you on a regular basis and provide a variety of support. You can consult with them about any problems you may have, from daily life to human relations or study concerns.

International student exchange events and other events

Through hybrid events utilizing the Internet, you will have opportunities for interaction with diverse people including international students, Japanese students, those people that you may meet at Japanese language schools, and graduates. Connections with other people are not only a great way to exchange information, but also a source of emotional support. Enjoy meeting new people.

Kyoto cultural experience

You can experience traditional culture and learn about traditional industries through a variety of programs. You will also have the opportunity to learn more about Kyoto's culture and traditions through a variety of local experiences, such as visiting cities, buildings, and facilities, which are unique to Kyoto.
Employment support
Internship program for international students

You can also participate in internships at companies in Kyoto Prefecture. By understanding Japanese business customs and corporate cultures, you will be able to acquire the ability to find employment in Japan. In addition to deepening your understanding of the contents and appeal of each company, mutual understanding between companies and international students may pave the way for you to settle down in Kyoto after graduation.

Employment support

Through seminars on how to proceed with job-hunting activities in Japan (such as resume writing, interview preparation), seminars to familiarize yourself with companies in Kyoto, and seminars inviting graduates who are working in Kyoto, we will help you relieve your anxiety and increase your motivation for job-hunting activities.

Broad academic development (including university transfer) and academic support

For international students who wish to deepen their studies through their learning at specialized training colleges, we will also provide support to enable them to choose from a wide range of academic paths including university transfer.
After graduation
Support for continuation of working for Japanese companies after graduation

In order to ensure that international students can continue working in Japan for a long time, we will establish a system where companies and schools work together to support their continuation of working according to their working conditions, such as holding seminars to understand Japanese business customs and corporate cultures, and having interviews with them after graduation.
Okoshiyasu Program Promo Video