2022.11.29
"A trip to Kyoto… by the sea!" Meeting up event by KYOTO Vocational Schools Network
Saturday 19th November, 2022. A fresh morning, in the West of Kyoto. A group of about 40 international students, coming from various parts of the world but all studying at vocational colleges or Japanese schools in Kyoto, gathered for a special day. Although many were still sleepy, all were excited about the trip waiting for them that day as they boarded the bus. Their direction: Ama-no-Hashidate, in Miyazu City, northern Kyoto Prefecture.
Leaving the old capital of Kyoto, they ventured north, deep through the mountains, which offered a glimpse through the window at the typical scenery of autumn in countryside Japan. Old houses with thatched roofs standing in the fog, dried up rice fields, mountains coloured in bright red and yellow.
Eventually, another surprising and beautiful view came to sight in the horizon as we reached the north of Kyoto prefecture and the city of Miyazu. And soon, Ama-no-Hashidate, one of the "日本三景" or "Three Views of Japan" (you can browse them if you'd like, they're all gorgeous).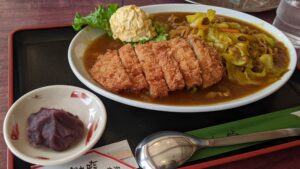 Before the effort to come, the students were first invited for lunch to taste a local specialty, "Curry soba". A big plate of noodles in slightly spicy, red curry with slices of tonkatsu (deep-fried pork cutlet) on the top. A real treat! Plus, a local variety of mochi on the side for the sweet teeth of us.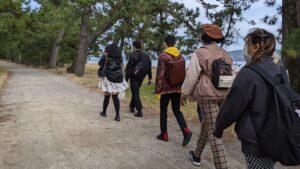 Now to the main part: the crossing of Ama-no-Hashidate, an isthmus of white sand boarded by ever-green pine trees. It was a one-hour pleasant walk under the clear sky of autumn. Or a quick ride for those who chose to rent bicycles instead. In any case, a little physical exercise with intense chatting and several stops to take photos along the way.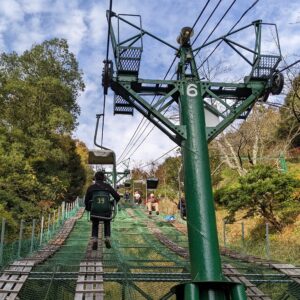 After reaching the other side of the bay, we went for higher grounds. Taking the chairlift, we climbed up to Kasa Matsu park, on the flank of a mountain. Viewed from there, Ama-no-Hashidate was stretching into the sea in all its beauty at our feet. The sky mirroring into the sea, you could understand the place's name: a "bridge standing in the sky". Some others say that, seen from upside down, it rather looks like a dragon soaring to the sky. Well, I guess it's up to interpretation!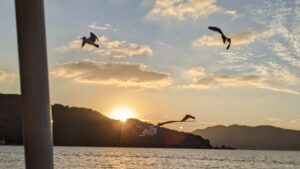 Our return to Miyazu city was made onboard a sightseeing boat, followed by a flock of seagulls wishing us farewell. Or more likely begging for those shrimp crackers you could feed them. The sun setting behind the mountains signalled the end of a day rich in adventure.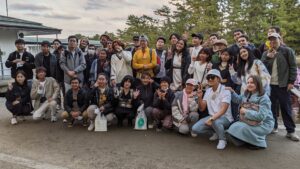 The bus ride back to Kyoto was quite silent, many students were tired from their trip and soon fell asleep.
It was without a doubt a memorable day, where they discovered another part of Kyoto, enjoyed nature and made new friends. All of it in Kyoto, by the sea.
~End note~
KYOTO Vocational Schools Network is an organisation supporting and promoting vocational institutions in Kyoto prefecture. Most notably, its "Kyoto Okoshiyasu Model Project" aims at supporting the integration of international students within vocational schools, often through meetup events like the one told above, cultural workshops, etc.
If you're living abroad or in Japan, and are interested in pursuing vocational studies in Kyoto, please have a look at the organisation's official site!